Hey, it's Mischa. Check out Glory Alley's crazy story of finding a cool rock and then having alien's come after her for it. You can read about it in The Wish Thief. Happy reading.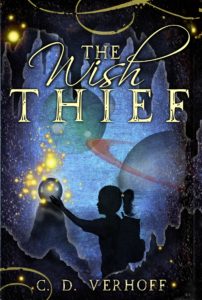 The Wish Thief by C. D. Verhoff
Misty Moon Media
Category: Young Adult
Genre: Fantasy/Science Fiction
Author's website: http://thewishthief.blogspot.com/
A budding young geologist on a quest for a precious stone finds more than she dreamed possible. Soul-stirring fantasy for teens and adults.
Glory Alley, teen caving enthusiast and rock collector, hopes to strike it rich in Queen's Mesa. The money wouldn't be just for her though. She plans to use it to stop her dysfunctional family from self-imploding. Against the odds, she finds a gem beyond compare, but gets more than she bargained for when otherworldly beings arrive to take it away. Determined to hold onto the prize, she pits her wits against their alien magic. As the stakes go up, and the clock ticks down, Glory must decide if her ungrateful loved ones are worth it.
Excerpt from Chapter 12 . . .
During fifth period, Glory reclined in her seat in astronomy class, gazing up at the planetarium's star-studded ceiling. The boy next to her had fallen asleep. Drool was running down the side of his chin. A couple of other boys were shooting paper balls through their fingers. The smell of nail polish filled the air. Despite all the distractions, the lecture held extra meaning today. She imagined the universe itself was sending her a message through her
Mr. Taylor was a bespectacled man with brown skin and a neatly trimmed black beard. Only a few years out of a prestigious university across the sea, he was one of the youngest teachers at Kingston High. Like Clash's family, he had immigrated to Cloverdale to get away from some war. She liked his foreign accent, the way he talked about dark matter and black holes, how science hadn't proven they existed—yet. But there was reason to believe that they were there. Her teacher was optimistic that the proof was out there somewhere in the great beyond, just waiting to be discovered. That's how Glory felt about the Elboni. Lack of scientific proof didn't mean its magic wasn't real. It just meant Tullah didn't know how to see, weigh, or measure it.
The plan hatching in her head began to drown out Mr. Taylor's lecture. As she leaned back in her chair, staring into fake outer space, Glory felt unexpectedly hopeful. The power of the Elboni had surged through her very own body. So there was reason to believe that magic truly existed. Following the trail of logic, this meant that the bums were indeed Wybbils. And most importantly, they had the magic. Catching one by the toe meant they'd have to give her whatever she wanted. One problem though—they wore heavy boots. Would catching a Wybbil by a boot instead of an actual toe count? She planned to find out.
Have you read this book already? Tell us what you thought of it.