Hi, Aadi here. Today I've got the last book in the Mind Over Series by Karina Fabian. Hearts Over Mind tells the story of Sachiko and Joshua's wedding.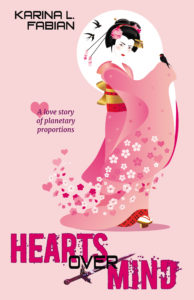 Finally, Sachiko is marrying Joshua! But the wedding she dreamed of is turning into a nightmare. Her Japanese grandmother has bought her wedding kimono, but not only is it psych-ward pink, but it also comes with a tsunokakushi, the traditional headdress to "hide her horns of jealousy and independence." Her stubborn independence may be all that gets her through the crazy days before the wedding. Joshua's fame means she's getting touted and berated as "the future Mrs. Joshaham." Not to mention, everyone else is planning their big day but her. She copes by concentrating on her internship, yet even that goes awry when, two days before the wedding, her efforts to save a patient's life leave him in a permanent coma. To top it off, her cousins get Joshua so drunk, he nearly drowns at his own bachelor party! Can she find the right balance of independence and humility to navigate the disasters and capture the joy of her wedding day?
Excerpt:
Peter and Joseph stood behind their mother, each gripping one of her shoulders. She wished Dr. Prakash had suggested his office, where the three could huddle together on the comfortable couch while she explained. Instead, Elise was left exposed, clinging to her sons' hands as she braced herself.
They could all see there was a dark cloud in the happy ending, and she ached at how strong the boys were trying to be.  The oldest was something like seventeen. Would he curse my name if his college fund goes to ICU bills?
She couldn't think about that now. At least the waiting area was quiet and empty except for a nurse fiddling with a bouquet of roses while yawing her way through the last of the shift, and some guy pacing in the corner while talking on his cell phone. She took a calming breath without letting it show.
"We're not out of the woods yet, Elise." As gently as she could, she explained the complications, the coma, the chances of his recovering either partially or fully.
Elise closed her eyes, digesting the information. When she opened them, she gave Sachiko a sad but hopeful smile. "We believe in miracles. You've given him that chance. Thank you. Can we see him?"
Sachiko watched as the duty nurse led them away, and as soon as they were down the hall and Chris had headed off to change, she slumped forward, pressing the heels of her hands against her eyes to push back tears of stress and exhaustion. Had she made room for a miracle or just set that poor family up for years of pain?
If she could, she'd just go home and sleep until the wedding.
She heard the squeak of rubber soles on the tile, and then a nurse tapped her arm. "Um, Dr. Luchese? I'm sorry, but it's just… There's a man who's been waiting for you for the past hour and a half…"
Sachiko looked up to see Gary, the personal assistant and Do-Fer for Chipotle, hang up his phone. He tapped his wrist at her and pointed at the TV. The news was showing someone's cell phone footage of her fiancé playing the hotel's piano, his dreadlocks bouncing as he poured all his emotions into the song. Even unaware, that man knew how to play to the cameras.
Cameras!
The interview!