Hey, it's Mischa. I've got Book Two for you in the Palace of the Twelve Pillars series by Christina Weigand. This time, the princes have to take over for their deceased father.
Palace of the Three Crosses by Christina Weigand
Publisher: MuseItUp Publishing
Age Category: Young Adult
Genre: Christian Fantasy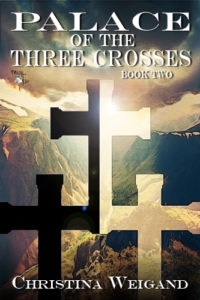 Brandan and Joachim survived the war, but can their relationship and their countries survive the aftermath.
Brandan and Joachim have returned from the brink of Hell, but everyone questions if they are truly healed and one with Asha.
As each prince tries to readjust to life, they must face the funeral of their father and their missing mother.
They each take on the responsibility of ruling a country with new wives by their sides, but can they and the countries survive the trials that will ensue because of their choices?
Excerpt:
Rupert looked through the window in his tower room at the landscape of Wyrzburg. Months had passed since the Battle of Harable Valley and the spring planting season faded into the wonderful summer growing season. The land progressed in its healing and would soon be returned to its former state. As he turned from the window, he thought about the things that hadn't healed…the twins. Brandan and Joachim still had a long way to go to erase the darkness that infected them. Joachim seemed better, but at night he still dreamed of Sidramah, and the doubts about what happened still haunted him.
Brandan appeared even further from the boy that left to find his brother. The darkness appeared to follow him day and night. He withdrew to chambers as far away from Joachim as he could get.
Walking down the stairs to the great hall, Rupert remembered when the princes first returned; both had seemed healed and better than ever, maybe. But it appeared as if the tentacles of Sidramah still lingered. Any small opening the evil one could find, he exploited, and both boys were once again haunted by dark dreams.
Have you read this book? What did you think?