Hey, it's Mischa.
Aadi didn't want me to tell anyone that it's her birthday.  So I won't. I'll tell you instead that it's Saint John Paul the Great's birthday.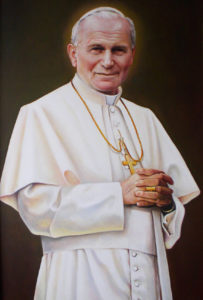 Karol Wojtyla (Why-toe-la) was born May 1, 1920 in Poland. He served as Pope of the Catholic Church under the name John Paul II from 1978 until his death on April 2, 2005. On May 1, 2011, he was beatified.
Did you know that there was an assassination attempt on May 13, 1980? Mehmet Ali Ağca shot him 4 times in Saint Peter's Square. The Saint later forgave the man for trying to kill him.
Join me today in saying the Salve Regina in his (and Aadi's) honor. It's Aadi's favorite prayer.
Post your birthday wishes in the comments below.